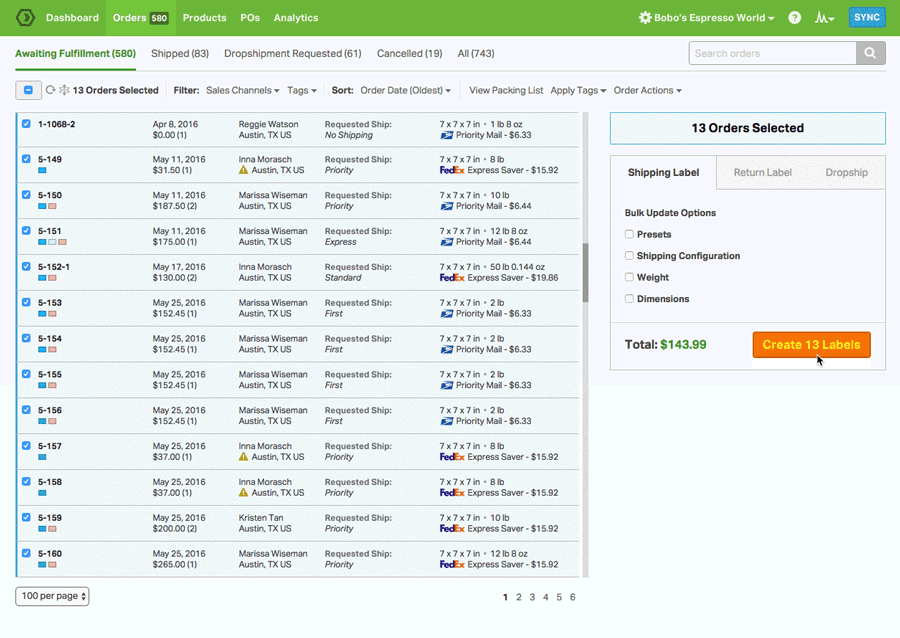 Keep stock levels in sync with our Shopify Inventory Management App
The All-In-One Ecommerce Logistics Platform
Equip yourself with a comprehensive solution
Inventory Management
Stock, sync, and scan.
Automatically track and sync your inventory levels
Create and send out Purchase Orders when it's time to restock
Bundle multiple SKUs into one unit for sale
Use Barcode Scanning to reduce fulfillment errors
Multi-Carrier Shipping
Your workflow, minus the work.
Enjoy heavily-discounted shipping rates via USPS
Ship via any of our integrated shipping carriers like USPS, UPS, FedEx, DHL and Canada Post
Set up your own Automation Rules and Shipping Presets
Print shipping labels in triple-digit batches or individually
Dropshipping
Truly hands-off dropshipping.
Launch a dropshipping operation in a matter of clicks
Tag any product as drop shipped and assign it to a vendor
Choose between automated or manual routing
Activate a Vendor Portal between you and your supplier
Multichannel
We're your operations hub.
Integrate and view all of your sales and supplier channels in one spot
Use our open API to hook up any third-party or custom apps
Manage every aspect of your orders
Establish Supplier Feeds for real-time, back-end communication
Barcode Generation and Scanning
Raise the bar for stocking and packing.
Create UPC barcodes for your products
Scan, set, and search UPC codes for SKUs within Ordoro
Reduce fulfillment errors with our pack and pack barcode scanning workflow
Scan received POs to automatically adjust stock levels
Don't take our word for it
Our awesome customers have shipped some really great compliments our way:
"I spent about a month thoroughly searching for the right backend fulfillment software for my eCommerce business. There were definitely some big name guys out there that I considered, but at the end of the day, I went with Ordoro and I'm so glad I did!"

Tina Yarandi
Founder/CEO of Nature's Artisan
"Ordoro continues to add immensely valuable features to an already awesome sales/warehousing/shipping platform. Using Ordoro continues to save us time and money."

Anthony Krize,
VP of GE Holiday Lighting
Shopify Inventory Management App
If you run a business in today's competitive marketplace, then you know firsthand just how many challenges you need to address. For one thing, when customers today are looking for products and services, they usually turn to the internet to help them. After entering a query into a search engine, they'll scroll through the first few results and make their decision based on those. So, if you intend to get the most out of your business, then you should make it easier for customers to purchase products and services from your store online.
This is why a lot of people decide to use Shopify. As a platform, Shopify has a wide variety of tools that can make it easier for you to sell online, including a Shopify inventory management app. Yes, even inventory management can be easier here.
If you would like to try out the best Shopify inventory management applications, you should visit the Shopify website and take a look at the Shopify app store. There, you can take a look at a wide variety of Shopify apps that might make it easier for you to decide what you want to do for your business and pick the app that best meets your needs. At the same time, there is a lot for you to think about here. A lot of things will be riding on your ability to find the best apps for your business.
If you are looking for the best Shopify apps for inventory management, it's worth knowing that there is no singular "best" solution. Instead, you need to take a look at the needs of your company, compare those with the applications available, and find the application that best meets as many of your needs as possible. However, this also means that if you are having trouble finding the right Shopify Inventory management option in one place, there are often multiple solutions available to choose from.
So what are a few ways you can make it easier for you to manage your online inventory? There are several key points to keep in mind here.
Shopify Inventory Management API
If you are trying to make it easier to manage your inventory, then you may be interested in Shopify inventory management API. Shopify API, including Shopify product API, is an important and integral solution when it comes to inventory API as a whole.
For starters, this is a powerful tool that makes it easier for you to take advantage of enhanced solutions that can better meet the needs of your Shopify clients. For example, software providers can receive access to data from Shopify-based online stores. Essentially, API is a set of programming codes that allow transmission of data from one software product to another. Spotify has created this API tool to make it easier for people to take control of their online stores, allowing people to tailor their products and services to meet their specific business needs.
There are numerous ways you can take advantage of Shopify inventory management API to make it easier to manage your store. For example, you can create orders, create product variants, manage variant inventory, and make it easier for your website to interface with customer commands. When it comes to Shopify API, every option has its own purpose. Therefore, you need to figure out how you can take advantage of Shopify API. It is true that you do need some coding experience and software knowledge in order to take full advantage of this feature, but even then, there are also professionals and tools that can help you get the most out of this program even if you do not have an expert level of API knowledge.
If you would like to learn more about each Shopify API inventory item, then you may want to take a look at the options that are available. In addition, Shopify also has representatives who can help you get the most out of your Shopify API inventory levels. Keep in mind, too, that Shopify API is only one of many solutions available if you are looking for ways to improve your inventory management. There are other options available as well. Therefore, think about your online store, consider Shopify inventory management API, and see if this seems like a good option for your company. With access to Shopify API, though, you can create a better experience for your customers quickly and easily.
Update Inventory Shopify App
If you are taking a look at Shopify update product inventory API, you might also be wondering how to update inventory Shopify app. Basically, even after you finish your Shopify app download, you still need to update your application from time to time. This includes Shopify update inventory by SKU. So, how do you update your Shopify app?
If you want to update your application, you can do this from the application store. Revisit where you originally downloaded your Shopify app, see if there is an update available, and if there is, then replace the existing application with this version. This is also a great way of installing software patches that can handle security measures.
On the other hand, you may just be looking for a way to update your inventory specifically using your Shopify app. To complete this process, tap the products section at the top of the app. Then, select the product that you would like to edit. (If you have multiple variants available, then you'll also need to select a specific variant that you would like to update.) Once you reach this page, tap the inventory section. From here, you can change the quantity of that specific item. Once you are finished making your changes, select the "done" button.
With this process, the change in your inventory should be updated immediately. Customers will know immediately when you have more products available.
Connected Inventory Shopify
If you would like to improve your ecommerce business, then you should take advantage of connected inventory Shopify. This is a great way for you to get the most out of your Shopify inventory management, including your inventory management app Shopify.
If you would like to make your Shopify inventory more connected, then you need to take a look at your Shopify inventory report. From there, you need to reconcile your inventory report against what you currently have listed in your database. Fortunately, there is a way for you to automate this process if you take advantage of Shopify sync inventory.
The goal of connected inventory is to sync inventory quantity across products, variants, and bundles. This is a great way for you to save time. Instead of having to manually check your inventory, copying over countless inventory quantities from one project to another, you can automate this process. Furthermore, this is also a real-time inventory solution. So you can increase sales revenue and customer confidence by guaranteeing that your customers are seeing the latest, most up to date inventory quantities every time, no matter when they shop.
Whether you are selling tickets, spaces, clothing, or something else, you should take advantage of connected inventory management. If you can automate your inventory management, then you'll be saving a significant amount of time that you can then spend elsewhere in your business.
Shopify Inventory Management Barcode
There are plenty of other ways you can improve your Shopify inventory management as well. One option is to take advantage of a Shopify inventory management barcode. Barcodes are important because they make it easy for you to scan products and services in and out of your inventory. With access to the "my Shopify inventory scanner," including a Shopify barcode scanner, you can make it easier to keep your inventory database updated.
There is even a Shopify app inventory scanner available for Shopify business users. You can use this tool to scan inventory into Shopify whenever you need to do so. As this tool continues to evolve, though, you may want to invest in a scanner that can handle barcodes and scan QR codes. A barcode is only two dimensions, whereas a QR code is four dimensions. Therefore, you can include more data in a QR code. As smart products continue to use QR codes and more industries switch to this system, you will probably want to use a barcode scanner that can handle barcode scan QR codes.
All things told, if you want to save time when it comes to Shopify inventory management, then you should invest in a scanner that can help you. A scanner can make it easier on your end, preventing you from having to manually enter each product into your inventory. Instead, you can simply scan products, update your inventory, and move on to the next task. So if you would like to save time on your inventory management, invest in a barcode scanner for Shopify.
Shopify Inventory Management Review
Ultimately, these are just a few of the many points you need to consider when it comes to your Shopify inventory management review. Your Shopify inventory quantity can change quickly, too, and this means it's also worth investing in Shopify inventory forecasting. When it comes to Shopify multiple products same inventory in particular, you want to be able to forecast how much inventory you are going to need. That is where a Shopify inventory app can be helpful. You never want to run out of inventory because then your customers will not be able to purchase your products when they want them, and this will impact your bottom line. At the same time, you do not want to spend a lot of money storing inventory that you may not use in time, so long as you have other options. That is why you might want to invest in Shopify variants share inventory, as this could allow you to scale your products and services up and back down with ease as needed.
When users are looking for the right product for their ecommerce business, they are looking for something that can save them significant amounts of time. Time is the most valuable resource, even in business. So if you can provide your customers with products and services that will make their ecommerce businesses more efficient, they are likely to get on board. No matter what industry you operate in, though, you can take advantage of Shopify inventory management review in order to get the most out of your inventory.