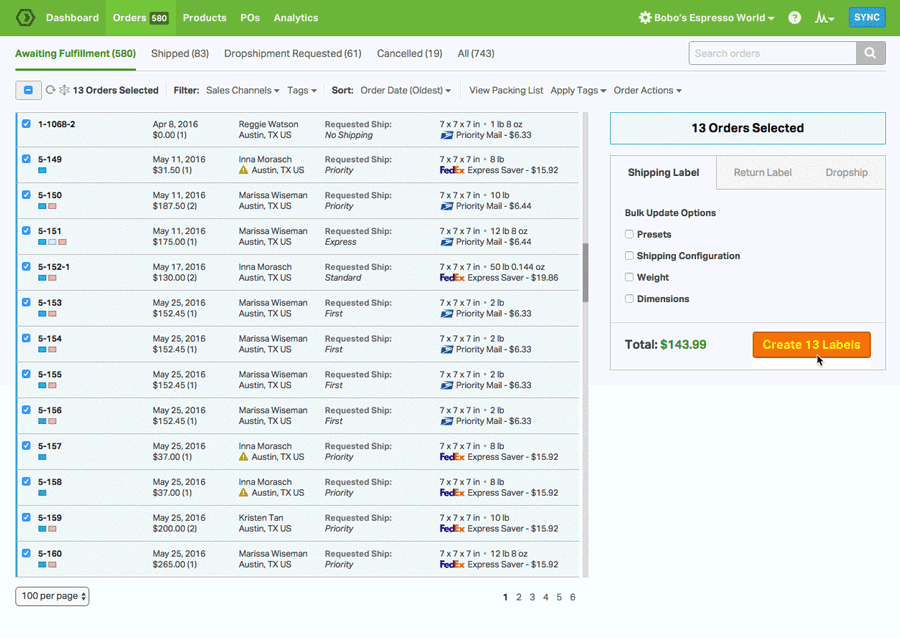 Reduce fulfillment errors with our shipping barcode scanner app
The All-In-One Ecommerce Logistics Platform
Equip yourself with a comprehensive solution
Inventory Management
Stock, sync, and scan.
Automatically track and sync your inventory levels
Create and send out Purchase Orders when it's time to restock
Bundle multiple SKUs into one unit for sale
Use Barcode Scanning to reduce fulfillment errors
Multi-Carrier Shipping
Your workflow, minus the work.
Enjoy heavily-discounted shipping rates via USPS
Ship via any of our integrated shipping carriers like USPS, UPS, FedEx, DHL and Canada Post
Set up your own Automation Rules and Shipping Presets
Print shipping labels in triple-digit batches or individually
Dropshipping
Truly hands-off dropshipping.
Launch a dropshipping operation in a matter of clicks
Tag any product as drop shipped and assign it to a vendor
Choose between automated or manual routing
Activate a Vendor Portal between you and your supplier
Multichannel
We're your operations hub.
Integrate and view all of your sales and supplier channels in one spot
Use our open API to hook up any third-party or custom apps
Manage every aspect of your orders
Establish Supplier Feeds for real-time, back-end communication
Barcode Generation and Scanning
Raise the bar for stocking and packing.
Create UPC barcodes for your products
Scan, set, and search UPC codes for SKUs within Ordoro
Reduce fulfillment errors with our pack and pack barcode scanning workflow
Scan received POs to automatically adjust stock levels
Don't take our word for it
Our awesome customers have shipped some really great compliments our way:
"I spent about a month thoroughly searching for the right backend fulfillment software for my eCommerce business. There were definitely some big name guys out there that I considered, but at the end of the day, I went with Ordoro and I'm so glad I did!"

Tina Yarandi
Founder/CEO of Nature's Artisan
"Ordoro continues to add immensely valuable features to an already awesome sales/warehousing/shipping platform. Using Ordoro continues to save us time and money."

Anthony Krize,
VP of GE Holiday Lighting
Shipping Barcode Scanner App
Are you looking for ways to expedite your shipping services? If so, then you may want to take advantage of a shipping barcode scanner. After all, one of the best ways for you to begin improving your shipping practices is to implement barcodes, which can help with both tracking and moving items. That way, you can also automate many tasks that you currently do by hand, such as inventory control and shipping management. So, if you are looking for a way to include barcodes as a part of your shipping options, then you should consider taking advantage of barcode scanners, particularly a shipping barcode scanner app.
However, if you are just starting to look for a barcode scanner app or a parcel scanner app, then you will quickly find out that there are lots of options available in this space. This can work to your advantage though, since you might be looking for the best barcode scanner app for Android or you might prefer the best free barcode scanner app for iPhone. Or, if you want something that works as a scan package barcode, then you may want to be using an application that will work well on multiple devices and operating systems, or OS. This way, you can provide both yourself and your employees with more flexibility.
So, how can you find the best barcode scanner to meet your particular business needs?
Ultimately, keep in mind that this industry is always changing quickly. For example, there are a significant number of updates that take place in the business world that you can rise to meet with a barcode scanner. Now, there are even QR codes that could be helpful to you, whether in inventory management or even, more recently, in shipping. Therefore, you need to think about working with the right team and the right application so that they can help you expedite your shipping practices and save more costs.
If you can save a lot of time and money when it comes to shipping, of course, then these are resources that you can put back into your business. This in turn could give you the capital you need to acquire more customers, hire more employees, and expand your company even further.
How To Implement A Barcode System For Inventory
So, as you might have guessed at this point, if you are wondering how to implement a barcode system for inventory, then there is a lot that you need to consider. For one thing, the offerings and uses of shipping barcode scanners can vary from industry to industry. For example, a retail barcode scanner system may not be the best option for you if you run a SaaS firm or a company in a related industry. Likewise, if you intend to use an inventory scanner system for small business, then it is important to start with the basics.
When it comes to a barcode scanner online shopping, the first thing you need to think about here is making sure that all of your products have a unique identifying series of numbers. That way, the barcode scanner will instantly identify the item that goes with a specific barcode. Then, you also need to link this barcode scanner for inventory with your inventory database. That way, when you scan a specific item, it is either removed from your inventory or added to it, depending on what you are doing with that item.
In addition, you need to make sure that you are thinking about security as well. While at first glance it may not seem like barcodes have much to do with security concerns, keep in mind that this barcode scanner app will actually hold a lot of confidential information regarding your business. For one thing, it will list how much you have in stock, which is a specific monetary value that you might not want outside parties knowing in case it encourages theft. In other cases, this system might have access to both your company's and your clients' shipping information, creating potential privacy breaches.
Because of these possibilities, make sure that you encrypt the information and its transmission between your barcode scanner app and your internal computer systems. That way, you will know that you have protected yourself accordingly while also making sure that you have the most recent information when it comes to the items you currently have in stock.
Finally, you may want to set up a system that will let you know when you are running out of certain items. That way, you can order more before you have to deny orders just because you don't have the inventory on hand to fulfill them. This is one of the best ways you can use a barcode scanner to optimize your inventory management practices, which in turn can also go a long way toward improving your business.
Parcel Barcode Scanner
As all of this demonstrates, if you are looking for a parcel barcode scanner, then there are a lot of factors you need to keep in mind. For instance, you need to find a barcode scanner that can handle a wide variety of barcodes. That way, you will know that you have an approach flexible enough to respond well to certain situations, such as changing inventory or scaling levels of it. In this case, you may be looking at a courier barcode scanner online, wondering if this is the right choice for you.
Or, if you work with Amazon's platform and AWS, then an Amazon package scanner may be the best fit for your business. Here too, though, there are several factors to think about.
First of all, you need to find a barcode scanner that is versatile enough to handle barcodes from a wide variety of areas. That way, you won't have to worry about your barcode scanner not working in certain situations. Second, you need to find a barcode scanner that can automatically link with your inventory database. That way, when you scan the barcode, the item is automatically added or removed from your inventory. Finally, you also need to find a barcode scanner that comes with a relatively short learning curve. Since there's a good chance there will be multiple people and teams using this barcode scanner, you need to make sure that it is easy to learn how to operate. If you do this, then you won't have to worry about taking employees off the line for long periods of time in order to train them on how to use the new shipping barcode scanner.
Package Scanner App
Or, if you are trying to find the right shipping barcode generator, then you also need to find an option that is compatible with mobile devices. For example, you may be looking for a package scanner app that will work well with mobile devices, and if you are looking for a shipping label scanner app, then you need to find one that is compatible with both iPhone and Android devices. This way, your employees will be able to use this shipping label scanner on their devices, no matter which ones they have or where they are trying to use them.
So, how can you find the right application to meet your needs? A good first step might be to speak to your employees who would be using it. See which tasks take them longest to complete, or which processes lead to the greatest amount of error. That way, you will have a sense of which needs your new barcode system and barcode scanning app will need to fill.
From there, take a close look at the type of items currently in your inventory. You will need to find a shipping scanner that can handle these types of items. For example, depending on the type of product you keep in inventory, their labels may get wet from time to time or even degrade under certain circumstances. You need to find a shipping package scanner application that can handle these issues and conditions.
If you have questions or concerns about the scanner you plan on using at any point during this process, remember too that there are shipping professionals whose expertise can guide you and help you find the best package scanner for your specific business situation. So, if you go to the trouble of evaluating the benefits and drawbacks of each option now, then you can set your business up for success in the future. As you do, make sure that you take advantage of everything systems such as package scanners have to offer.
Shipping And Receiving Scanner
If you are working with a shipping and receiving scanner, then you will also need to think about your shipping and receiving systems. Ideally, you should be able to use a scanner that can work well with a wide variety of devices. For example, regardless of whether your company utilizes Windows or Mac products, your shipping scanner should still work well across devices. You will also want to make sure this scanner can link directly to your internal systems. That way, after you scan an item, it is automatically credited to or debited from your stock. With immediate updates like this, you will always know exactly how many items you have in stock at all times.
In addition, you should also think about how often the scanning software takes to update and how often this happens. This should be a part of your consideration because there's an excellent chance that technology like shipping scanners will continue changing in the near future. As this happens, you will want to have a scanner system that is capable of updating itself automatically. At the same time, though, you also want to use something that will update quickly. That way, you won't have to worry about falling behind on your orders if your scanning system takes a long time to update.
In terms of updates, you may even be able to find options like a shipping scanner that will enable you to automatically scan a product you've sold and generate a shipping label in the process. This can save you even more time and so may be another way for you to improve the quality of your shipping processes.
Barcode Scanner App to Excel
Finally, you may want to put all of your information into a spreadsheet that is relatively easy to track and interpret. For example, you may already have a lot of experience working with Microsoft Excel. If that is the case, then you may be looking for a scan to Excel app. Or, if you want to transform your barcode to Excel spreadsheets specifically so you can track inventory that way, then you need to find a barcode scanner app to Excel system that will work well for offerings in your industry.
For instance, if you are looking for a barcode scanner to Excel spreadsheet, then you may want to take a closer look at Ordoro. Ordoro provides you with access to a barcode inventory system Excel because Ordoro can actually take your data and export it to Excel. This is another way for you to save time on your shipping and inventory management practices because it enables you to automate many clerical processes that you may still be doing by hand. Furthermore, this application also has a short learning curve, ensuring that you and your teams can apply it instantly. Or, if you are looking for a way to improve your inventory management practices, then you need to take a look at everything that Ordoro has to offer. It can save you time and costs that you can now apply toward growing your business instead.