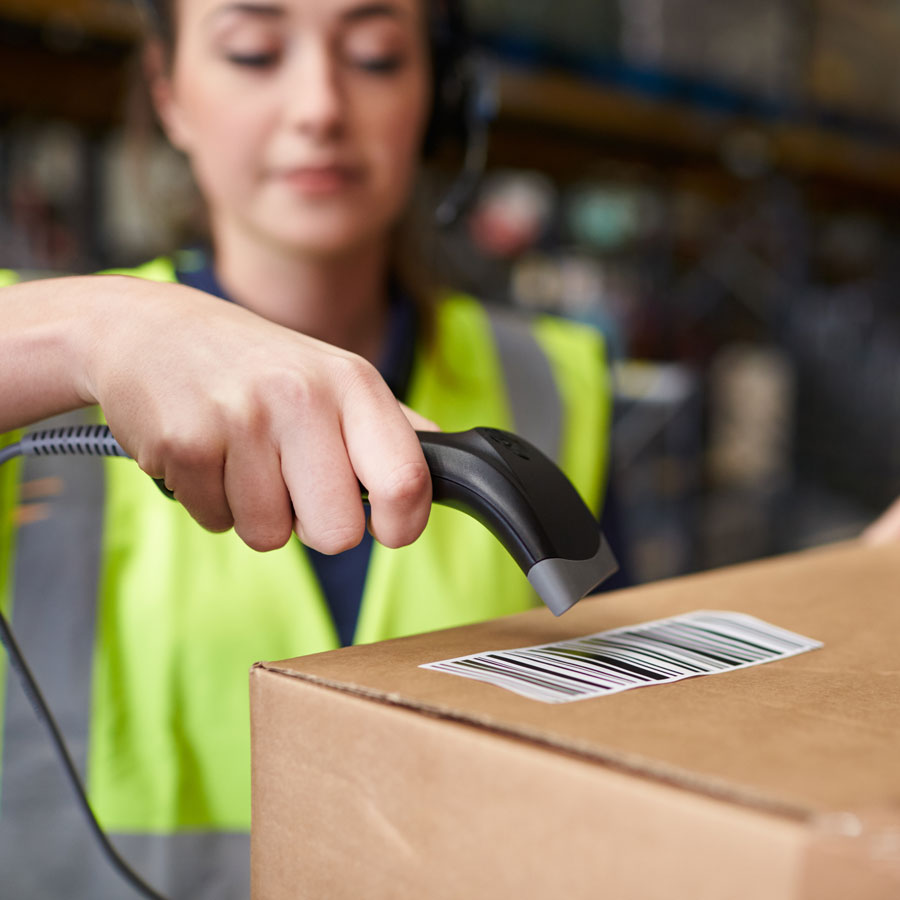 Keep stock levels in sync with multichannel inventory management
The All-In-One Ecommerce Logistics Platform
Equip yourself with a comprehensive solution
Inventory Management
Stock, sync, and scan.
Automatically track and sync your inventory levels
Create and send out Purchase Orders when it's time to restock
Bundle multiple SKUs into one unit for sale
Use Barcode Scanning to reduce fulfillment errors
Multi-Carrier Shipping
Your workflow, minus the work.
Enjoy heavily-discounted shipping rates via USPS
Ship via any of our integrated shipping carriers like USPS, UPS, FedEx, DHL and Canada Post
Set up your own Automation Rules and Shipping Presets
Print shipping labels in triple-digit batches or individually
Multichannel
We're your operations hub.
Integrate and view all of your sales and supplier channels in one spot
Use our open API to hook up any third-party or custom apps
Manage every aspect of your orders
Establish Supplier Feeds for real-time, back-end communication
Dropshipping
Truly hands-off dropshipping.
Launch a dropshipping operation in a matter of clicks
Tag any product as dropshipped and assign it to a vendor
Choose between automated or manual routing
Activate a Vendor Portal between you and your supplier
Don't take our word for it
Our awesome customers have shipped some really great compliments our way:
"I spent about a month thoroughly searching for the right backend fulfillment software for my eCommerce business. There were definitely some big name guys out there that I considered, but at the end of the day, I went with Ordoro and I'm so glad I did!"

Tina Yarandi
Founder/CEO of Nature's Artisan
"Ordoro continues to add immensely valuable features to an already awesome sales/warehousing/shipping platform. Using Ordoro continues to save us time and money."

Anthony Krize,
VP of GE Holiday Lighting
Multichannel Inventory Management
Running a small business today is a time-consuming endeavor that involves more moving parts than entrepreneurship ever has in the past. Businesses need to have a strong online presence and be able to attract consumers in a number of ways; and while there are many tools available to help with these things, small business owners might have a hard time keeping up with the rapid pace of technological development. This is where a multichannel inventory management tool can come in handy, by helping small business owners track what they have in stock in real time.
When it comes to a multichannel inventory management platform, there are a few important points to keep in mind. First, it is important f to know what the term "multichannel inventory management" is describing, which is the processes and/or tools used to track inventory across different places within the company. When it comes to multichannel selling software in particular, the goal of this tool is to handle as many tasks as possible.
There are a number of challenges when it comes to multi-platform inventory management options today. For instance, it is a good idea for companies to consider multichannel inventory sync. A multichannel selling platform has the potential to save managers a tremendous amount of time in their day-to-day operations. Therefore, it is important to incorporate multichannel inventory management into other management activities as part of a larger multichannel sales strategy.
The best multichannel ecommerce platform will be able to handle a variety of needs all at once. For example, this kind of software tool must be able to handle sales as they come in, including giving customers the ability to make a purchase. Then, this inventory management tool should also be able to check incoming orders against the company's present inventory in order to figure out how long each order will take to be filled. Then, a good multichannel inventory management program should also be able to take a look at shipping needs and figure out how long the order will take to reach the customer. If the program can handle all of these tasks at once, this can save small business owners a tremendous amount of time, while also ensuring that customers are kept happy with both their purchases and the business itself. If managed correctly, the sales and fulfillment processes can create customer loyalty that will prove invaluable to the business's future growth.
Inventory Management Software
One of the most important tools that small business owners today can employ is called inventory management software. Inventory management software is a software program designed to help small business owners track their inventory and refill their stock as needed, all with minimum manual tracking.
For small business owners looking for ways to make their inventory management process easier, they might start out by considering a free option. For example, many small businesses decide to go with inventory management software open source options. These are a good place to start, as they allow small business owners to evaluate all their options without committing to any one program from the start. However, these free options will also have their limitations. For example, free warehouse inventory management software cannot always provide small business owners with the diverse array of features that their businesses might need. Oftentimes, these free programs are designed to take a one-size-fits-all approach. The reality is that if a program is designed to suit part of everyone's needs, then at the same time, it won't be able to fulfill every need for everyone. Therefore, small business owners need to be willing to take the time to find the program that will best meet their specific business needs.
Therefore, even when small business owners eventually need to pay for the right inventory management software program, it will quickly prove to be a worthwhile investment. Some things that the savvy business owner should consider include what needs they'd like to fill, what processes they want to automate, and what kinds of labor or energy that they would like to save on a daily or weekly basis.With the right inventory management software program at their command, small business owners can spend more of their time growing the business, rather than worrying about the ins and outs of inventory.
Inventory Management Software Free
When it comes to an inventory management software free option, it is important to consider what this means. First, of all, there are certainly plenty of premium options that provide a free trial first. This kind of free trial is designed to let potential buyers get their feet wet with the program before they decide if they want to purchase the entire thing. In this way, free trials can be great, since business owners will be able to figure out if the program is right for their needs. At the same time, however, it is important to note that a free trial usually offers only a small fraction of the full features provided by the premium software program. Therefore, business owners need to be aware of what is and isn't being included in the free program, and they should also be thinking about whether or not the additional features would be able to better meet their needs.
On the other hand, there are some small business owners who might truly be looking for an inventory management option that is free 100% of the time. For example, many business owners might decide to handle inventory management software in Microsoft Excel. Free inventory management software in Excel does have its benefits. With an Excel spreadsheet, it is possible to take formulas, add them to cells, and complete many o basic inventory management tasks with only some manual work.
At the same time, though, there are also limitations that come with using a software program such as Excel. Often, these kinds of software programs have not been designed specifically for inventory management: Excel, for instance, was intended primarily to create spreadsheets, not to handle inventory management. This may mean that Excel cannot handle every inventory management task that a business owner may want to automate; it may also mean that Excel's own automation options are limited.
Furthermore, many free programs are also too slow, leaving small business owners lagging behind their competitors. Given these limitations, it is almost always better for small business owners to think about investing in a stronger inventory management software program. By using a tool that has been designed specifically for inventory management, small business owners will be able to track their inventory more quickly, intelligently, and comprehensively, keeping them a step ahead of their competition.
Inventory Management Software for Small Business
As discussed above, it is incredibly important for all business owners to make sure they invest in inventory management software, but this is especially true for small businesses. This is because small businesses are often working with more limited resources than larger or better-known competitors, and so they need to optimize those resources - including their inventory. For example, if a small business has too much inventory, then it winds up taking up a lot of space and storage. This can add significantly to their overhead costs. On the other hand, if small businesses do not have enough inventory, then customers are going to be upset when their orders take longer to fulfill and the business might actually end up losing orders. By investing in small business software inventory management tools, small business owners will find that suddenly they do not have to worry about their inventory all the time. Using multichannel listing software, small business owners can automate many of the processes related to inventory management. Instead of having to track these issues by hand or cobbling together tracking options in programs such as Microsoft Excel, small business owners can spend their time actually managing and growing their businesses.
Multichannel eCommerce
When it comes to running an online business today, it is important to invest in multi-channel tools, since multichannel ecommerce is such an important facet of digital success. There are many different tasks that online business owners have to think about when an order is placed. For example, they will need to have a platform that can accept customers' preferred payment methods, and another platform that will actually fill the order. Additional platforms may be needed to handle shipping, tracking, and communications with the customer, and the numbers keep adding up. Fortunately, there are multichannel ecommerce software options that can handle many of these issues all at once. In fact, the best multichannel ecommerce platforms should be able to automate as many of these processes as possible.
At the same time, though, there is no single best solution. The reality is that online businesses operate in different industries, much like brick-and-mortar stores. Therefore, it is important to invest in the right multichannel solution that can help an online business run more accurately and efficiently in its own particular industry.
Simple Inventory Management Software
Even though inventory management automation might sound complicated at first, it really doesn't have to be. There are plenty of simple inventory management software programs available. At the same time, though, this doesn't mean that all simple inventory management options are created equal. For example, many small businesses decide to start with a free inventory management software download or inventory management software open source options. And even though these options can provide a good starting point, in the end it will always be better to invest in a paid solution.
This is because many free options have not been designed specifically to meet inventory management needs, but instead, to meet several additional needs all at once. To avoid getting saddled with an unhelpful tool, business owners should focus on finding an inventory management tool that has been designed specifically to meet their needs. Once such a program is in place, business leadership will be able to invest their time in the parts of their business that cannot be automated, secure in the knowledge that their inventory management concerns are being handled quickly, securely, and accurately by an automated program.