Your Control Center for Inventory Management
An Automated Approach to Inventory
Keep inventory information automatically flowing to and from each of your integrated channels, whether it's sales or supply-side.
Unify Your Inventory

Ordoro is your central hub for all matters inventory. Plug each of your channels, from marketplaces to webstores to suppliers, into the app for a multichannel business connected to the same inventory. Add multiple warehouses as well, whether it's your garage, Fulfillment by Amazon, or a dropshipper, and choose which to ship orders from.
Shred Those Spreadsheets

Instead of flipping through spreadsheets and copy-pasting numbers, let us do the juggling within Ordoro. As you fulfill orders and restock products, we'll track all of your inventory behind the scenes and help prevent stockouts. Set a low inventory threshold for each of products, and once quantity hits it, we'll give you a heads up.
Sync Inventory Without Thinking

As you go about your business, Ordoro will keep tabs on your products. We react to fulfilled orders and restocks by automatically updating and syncing product quantities across each of your integrated sales and supplier channels for a completely aligned business.
Inventory Control That's Customer-Facing
Easily maintain an organized inventory as you kit, link, and market your products — three functions that bring Ordoro's inventory management to your customer-facing storefronts.
Bundle Orders with Organization

Make use of Ordoro's built-in kitting engine to bundle multiple products as an individual unit for sale — kit related products, products with components, or products with varying quantities. And as you get more product off the shelf at one time, we'll continue monitoring and adjusting the product quantities of each SKU involved.
Kit it Up a Notch

If you're a complete kitting aficionado, put our advanced functions to work. Construct kits consisting of multiple bundles, kit products spread throughout multiple warehouses, and create fractional kits for sale — all while Ordoro tracks and syncs inventory in the background.
Bring In the Brand by Product Linking

Selling the same product on multiple sales channels under different branded descriptions? Ordoro is centered around the multichannel, so list them individually, and simply link them to a "Master Product" to sync each.
Shape Perception Through Product

To create a sense of scarcity, our Max Export Quantity lets you establish a limit on the product quantity seen by the consumer when Ordoro pushes amount on-hand to your storefronts — if you set the Max Export Quantity to ten and have 40 units in stock, only ten will appear on your channel.
Features to Streamline Your Back Office
Better handle supplier relations, the flow of product, and speed up your workflow with Ordoro. We allow you to batch set up suppliers, rapidly restock your inventory, and analyze inventory costs within a single app.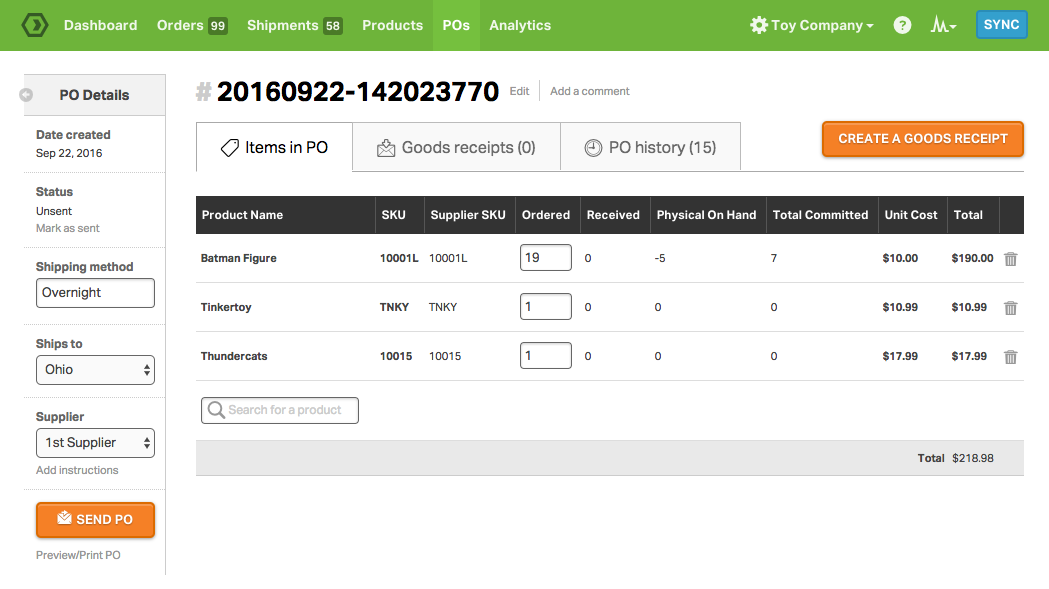 Ready, Set, PO

Take your products and assign each to their appropriate supplier in bulk. After you've matched the two, issuing purchase orders (POs) to resupply is as easy as one, two, three clicks inside Ordoro. With purchase orders, it's also possible to strategically oversell — stocked or not, sell as much product as you want, and backorder from your suppliers with a PO.
Get the Goods Receipt

A goods receipt is generated alongside every PO, helping ensure you get the stock you ordered. As product trickles in, enter quantity received into the goods receipt. Once the receipt is met, the PO will be complete.
Raise Your Workflow's Bar

We support UPC barcodes, offering the option to scan, set, and search UPC codes for SKUs within Ordoro. And for speedy picking and packing, the app assists with organization by letting you tag products with aisle and bin locations.
Pick and Pack Errors Will Plummet

With our barcode scanning feature, you can secure yourself peace of mind and reduce costly fulfillment errors. Simply select one or multiple orders, hit a button, and the app will pull up the items that need to be picked, scanned, and packed, marking orders as complete once every item is accounted for.
Crunch the Numbers

When it's time to slice and dice inventory info, you've got options. Ordoro contains built-in Advanced Analytics that tracks all of your metrics, from cash tied up in inventory to best and worst selling products. On top of that, export a CSV file filled with data to analyze the numbers yourself or connect with any of our number-crunching integrations like QuickBooks.