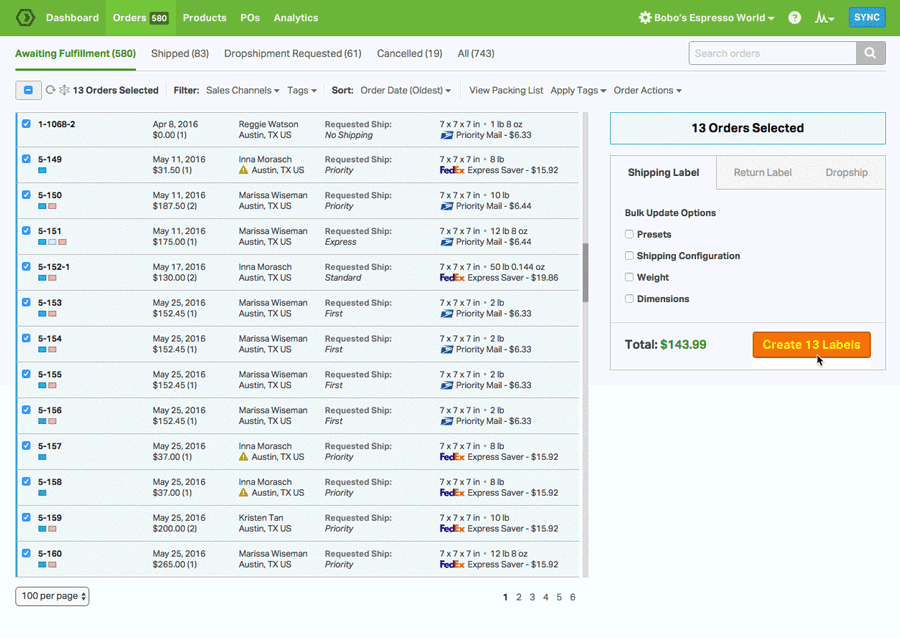 Fulfill Orders Faster With One Of The Best Dropshipping Apps
The All-In-One Ecommerce Logistics Platform
Equip yourself with a comprehensive solution
Inventory Management
Stock, sync, and scan.
Automatically track and sync your inventory levels
Create and send out Purchase Orders when it's time to restock
Bundle multiple SKUs into one unit for sale
Use Barcode Scanning to reduce fulfillment errors
Multi-Carrier Shipping
Your workflow, minus the work.
Enjoy heavily-discounted shipping rates via USPS
Ship via any of our integrated shipping carriers like USPS, UPS, FedEx, DHL and Canada Post
Set up your own Automation Rules and Shipping Presets
Print shipping labels in triple-digit batches or individually
Dropshipping
Truly hands-off dropshipping.
Launch a dropshipping operation in a matter of clicks
Tag any product as drop shipped and assign it to a vendor
Choose between automated or manual routing
Activate a Vendor Portal between you and your supplier
Multichannel
We're your operations hub.
Integrate and view all of your sales and supplier channels in one spot
Use our open API to hook up any third-party or custom apps
Manage every aspect of your orders
Establish Supplier Feeds for real-time, back-end communication
Barcode Generation and Scanning
Raise the bar for stocking and packing.
Create UPC barcodes for your products
Scan, set, and search UPC codes for SKUs within Ordoro
Reduce fulfillment errors with our pack and pack barcode scanning workflow
Scan received POs to automatically adjust stock levels
Don't take our word for it
Our awesome customers have shipped some really great compliments our way:
"I spent about a month thoroughly searching for the right backend fulfillment software for my eCommerce business. There were definitely some big name guys out there that I considered, but at the end of the day, I went with Ordoro and I'm so glad I did!"

Tina Yarandi
Founder/CEO of Nature's Artisan
"Ordoro continues to add immensely valuable features to an already awesome sales/warehousing/shipping platform. Using Ordoro continues to save us time and money."

Anthony Krize,
VP of GE Holiday Lighting
Dropshipping Apps
One of the things that's made Shopify so successful is the fact that they offer so many free apps to help people get started in e-commerce. Every year, magazines publish a slew of articles reviewing the most popular ones. Technology is advancing so rapidly that the lists from year to year can be quite different. However, the best free Shopify apps 2021 include a few that have remained popular since they appeared in 2020. One of the best free apps for Shopify, according to the number of people who've downloaded it, and the fact that it appears on both lists, is Printful. It made the top ten for two years running, which really demonstrates the benefits of dropshipping. Printing and shipping only merchandise that's been ordered, without having to rent warehouse space to store the rest is a real cost saver. Another reason for its continued popularity is that it integrates well with giants like eBay. Business owners realize what an important role good dropshipping apps play in the success of their e-commerce ventures. WooCommerce offers free sites, but they charge a fee for Woo Drop-ship, their WordPress plug-in. Many businesses just starting out make the mistake of limiting themselves to free offers and trying to create a system by mixing and matching software and services. The problem with free offers is that they have order limits, and surpassing those limits can really complicate your accounting. Multiple unexpected fees and unplanned expenses in one area affect other areas, such as your inventory. For example, you may not be able to get that bulk discount on the popular item you wanted to restock. Paying a fee for a good dropshipping app is well worth the investment, but a comprehensive integrated system like Ordoro that allows you to access multiple dropshipping companies—and multiple vendors— from a single dashboard is an even better investment.
How To Dropship On Shopify
The art of dropshipping, in which orders are transferred to a third-party wholesaler or manufacturer that ships the merchandise directly to the customer, is not an easy one to master. If you want to learn how to dropship on Shopify, they offer an entire dropshipping course on their website, as well as a multitude of training videos. If you have a question, there's a good chance they have the answer. The most important aspects are finding suppliers, creating a website, tracking shipments, and analyzing sales data so you can make the best possible decisions. Many books have been written on the subject and most experts in the field seem to agree that those who succeed are those who spend the most time researching buying trends and offering their customers great deals on popular items. Investing in an integrated system that allows you to automate as many processes as possible gives you the time to do that. There are a few basic things that any good dropshipping app should enable you to do. It should make it possible for you to launch a dropshipping operation with just a few clicks of a mouse. It should provide access to a vendor portal between you and your suppliers. You should be able to tag any product and assign it to a vendor and choose between manual or automated routing to accommodate special orders. Finally, it should be able to integrate with Shopify dropshipping suppliers. Those who want to elevate dropshipping to an art need an app that enables them to integrate seamlessly with multiple suppliers and multiple shipping carriers. Having access to all of your sales, suppliers, and shipping carriers from a single dashboard allows you to see, and control, every aspect of your creation.
Shopify Dropshipping
There are a few more things you should expect from any good Shopify dropshipping app, and the ability to compare shipping costs in real time is one of them. This allows you to take advantage of lower shipping costs in certain regions offered by a specific carrier. Excellent security is another factor that should be non-negotiable. It won't matter to your customers whether you're able to cut costs enough to offer them free shipping or deep discounts if their personal information is compromised. The best dropshipping apps for Shopify 2020 and the best dropshipping apps for Shopify 2021 have at least one thing in common, and that's excellent security. That's another reason it isn't wise to go with a free system if you're planning a future in which you depend on your online business for your livelihood. You want industry professionals working to keep your software up to date and staying ahead of any potential new security threats. Another thing to consider is the monthly cost. Increases in costs should be directly tied to increases in the success of your business. Ordoro isn't just one of the best dropshipping apps for Shopify. You can integrate it with multiple vendors and online store-fronts but still utilize some of the best Shopify plugins. Reducing errors is another important thing a good dropshipping app will do for your business. It allows you to automate the most time-consuming and error-prone processes while freeing you up for the processes that no computer could do as well as you—like thinking of creative ways to attract and retain more customers. Time spent on customer service pays off as much as time spent researching consumer buying trends. One allows you to offer your customers products they want, and the other allows you to do it in your own unique style.
Amazon Dropshipping For Beginners
Like Shopify, Amazon has become one of the dropshipping industry giants. If you're new to e-commerce and the world of dropshipping, you can learn a lot from Amazon dropshipping for beginners. With Ordoro, you don't have to choose between them, you can have the best of both worlds. In fact, you can have the best of every world. Because Ordoro has multichannel capabilities, you can reap the benefits of dropshipping from Amazon to Shopify. One of the advantages of Amazon is their reputation for reliability and speed. When you're trusting a third party to deliver products to your customers under your company name, you want it to be a company that is going to help you look good. That third party isn't going to be responsible for providing refunds to unsatisfied customers—you are, so you want some evidence of their proven reliability over time. Ordoro's customizable software allows you to build your own reputation for reliability while integrating all the best features of those with a proven track record of success. Best of all, it allows you to track shipments from multiple sellers through multiple shipping carriers from a single dashboard. Coupled with the power and flexibility of Ordoro, the best Amazon dropshipping apps increase your chances of becoming one of the 20% who succeed in today's highly competitive dropshipping industry. Once you start achieving that success, you'll appreciate its scalability and so will your employees, because they won't have to learn a whole new system. Ordoro's fully integrated system was created specifically for small businesses to be able to transition seamlessly into medium-sized and large businesses. Success should be a cause for celebration, not just more hard work and having to find a new software system.
Best Dropshipping Apps
Increased profits make the difference between an expense and an investment. Whether you're just starting out or you've already achieved some success, when it comes to e-commerce, Ordoro is the best in the business. No matter what kind of store you have, or how many, you'll benefit from all the features they offer. Whatever products you offer, being able to take advantage of industry discounts on multi-carrier shipping is going to help you ship them for less. Multi-channel integration and warehouse management gives you the ability to see exactly how many items you have in any warehouse at any given moment. Being able to write your own automation rules means that you can decide in advance when to trigger an automated purchase order, whether the number remaining in stock is 10 or 1000, depending on the item's cost, size, and popularity. With barcode scanning capability, every item scanned and shipped is automatically subtracted from inventory while every purchase scanned in is automatically added. Data analytics allows you to see at a glance which items are your top sellers and which you're having trouble moving. Kitting ability allows you to bundle items together to offer creative combinations for your customers while reducing your inventory of less popular items. Because it was developed specifically for e-commerce, Ordoro is one of the best dropshipping apps available today. Because it continues to incorporate both new technology and the newest security measures, it will still be one of the best Shopify apps to increase sales tomorrow and into the future. Ordoro is so committed to your success that they offer 30-day onboarding for you and your employees to demonstrate all the features it offers, and how to best use them, absolutely free. They also provide lifetime support. It's not an expense, it's an investment.